3 Most Unique Flower Gifts That She Will Cherish Forever
Have you ever sent flowers to your friends, family or loved one as a gift? I believe most of your answers would be "Yes". Undoubtedly, a fresh bunch of blooms has always been one of the top choices for gifts in different culture over the centuries. And the reason seems to be easy. Giving flowers is appropriate for any occasion because it provides a perfect way to enlighten someone's day. Besides, we give flowers as gifts to express emotion. Whether it is love, joy, appreciation, sympathy, romance or apologies. Different flowers convey different messages. For example, Red Roses usually stand for love and Rangoon Creeper represents health. A combination of flowers can help to express your feelings while words cannot.
A bunch of flowers is not only an ideal choice as a gift, but also a perfect combination or decoration with another gift product as flowers can provide a stunning and long-lasting visual effect to the receiver. Also, we can pick different flowers to express different kinds of greetings. We can see that nowadays some unique gift ideas using flowers have become more and more popular. Let's take a look at some choices:
Preserved flower gift box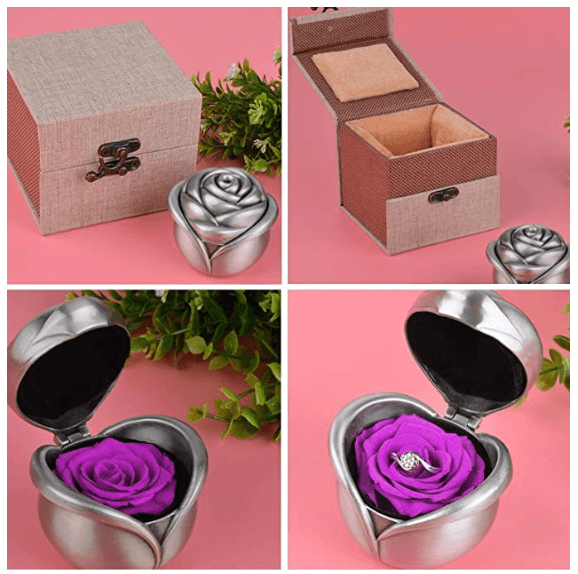 Fresh flowers can only last for a few days, as we all know, and they will decay eventually. But what if we want to remind our loved ones of our love and care from time to time by just a glance of the flower that we give? Here comes with the preserved flower idea. Some manufactures preserve fresh flower using some technologies to make it long lasting. Just like the love you want to show it to your lover.
Some sellers offer customized service to allow you to choose your desired kind and colour. Before you make the purchase, you should figure out what flowers that your lover likes most, and what is her favorite colour. Moreover, along with a beautiful gift-wrapping, if you put a small piece of jewellery inside, you will never go wrong. 
Preserved Flower in Glowing Glass Dome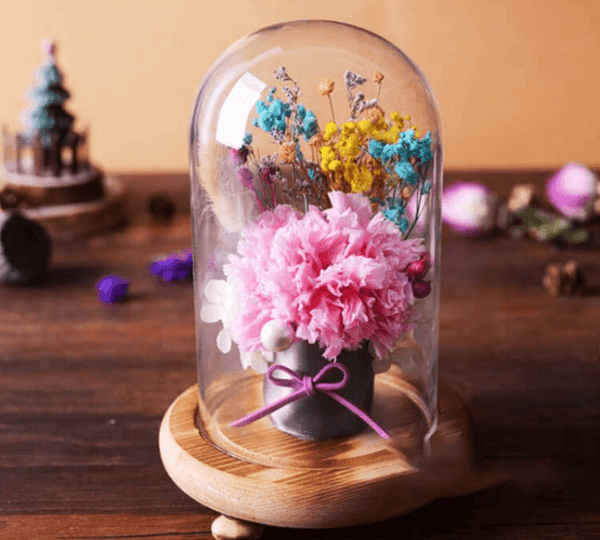 A combination of blooms usually convey messages with multiple meanings to reflect the sender's love, care or greetings. Now the preserved flower offers you an alternative way as a gift.  You can choose from red, pink, blue, purple, black or multi-colored. To top it off, you can also send an engraved message adding a truly personal touch to this sincere gift.
These colorful preserved flowers will not only brighten any room but they are made to last for years, meaning they'll bring joy to family, friends and loved ones for years to come. These beautiful arrangements can also be arranged in a range of colors and styles that are sure to please anyone no matter what the occasion is. 
Bluetooth Speakers with Preserved Flower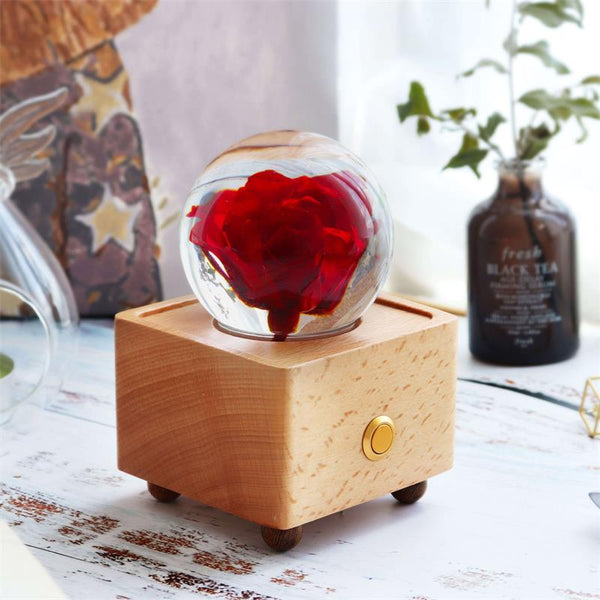 Flowers and music can always uplift our mood. When the two come together, it's a perfect match. With a Preserved Flower Bluetooth Speaker. The flowers sealed in crystal ball displays beautiful arrangement while you can play your favorite music on the wireless Bluetooth speaker, which comes with a charging cable. It is ideal for parties, celebrations or simply for a relaxing time. And of course, it's a best gift choice for your loved ones. Usually the seller offers various flower combinations and colours to choose from which you can choose your unique gift.
Compared with fresh flowers, preserved flowers' lifespan is much longer and require very little maintenance. Unique combinations of preserved flowers arranged by you are sure to impress your loved ones and create lasting memories.
 There's no denying that fresh flowers is always among one of the top choices as a gift. However nowadays people tend to desire more and more personalized or customized products to express their feelings or love. Fresh flowers has it own limit, such as they cannot be preserved for a long time or they are difficult to fit in other artificial products. That's the reason why preserved flower gifts have recently become another hot choice as a gift. If you want to have something different for your loved one but still keen on using flowers to express your feelings, try one of these creative flower gift products!